A Smarter, Quicker, Low-Cost Solution For Semiconductor Yield Management
If you work directly with STDF files, you need QuickLoad-Central. This powerful piece of software combines a host of essential functionalities into one convenient location, giving you full access to your STDF files.
Some of the highlights include:
Easily filter list of applicable files though key information such as lotid, waferid, date, file name, yield, and more.
Directly access and edit data via our powerful STDF editor
Visualize data with histograms, paretos, box plots, wafer maps and many other tools, all with configurations such as separating by variable
Push data directly into JMP, Excel or other analysis tools for one or multiple files
Correct identifier problems (wrong lotid, missing wafer record, etc) across multiple files
Convert STDF files into standard formats like TDTF, CSV, XLS and JSON.
Create STDF files from TDTF or properly formatted CSV and JSON files.
Analyze or export data from STDF files stored in Amazon S3 cloud storage
Convenient Dashboard
If you are using Windows Explorer or Finder to pick the files to load into your analysis tool, you should be using the QuickLoad-Central dashboard. It will not only show you the STDF files, but their lot, date, sublot or waferid, yield and other information you need to quickly assess them.
QuickLoad-Central can also filter your STDF files by any combination of key header records, including wildcards. You can even edit the values of key fields such as lotid and waferid in multiple files directly from the dashboard, while generating the correct audit trail.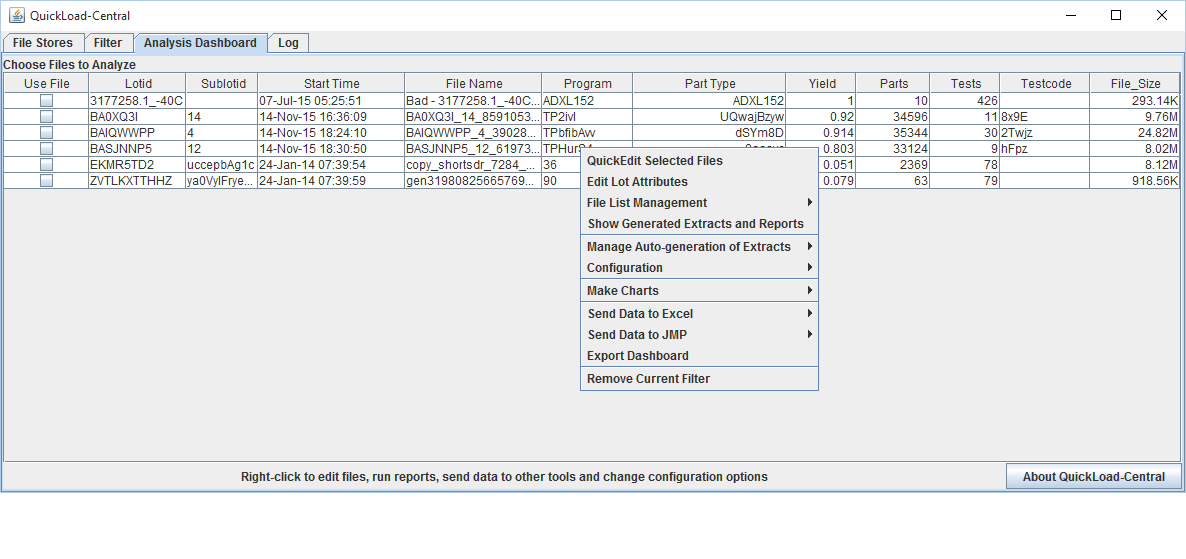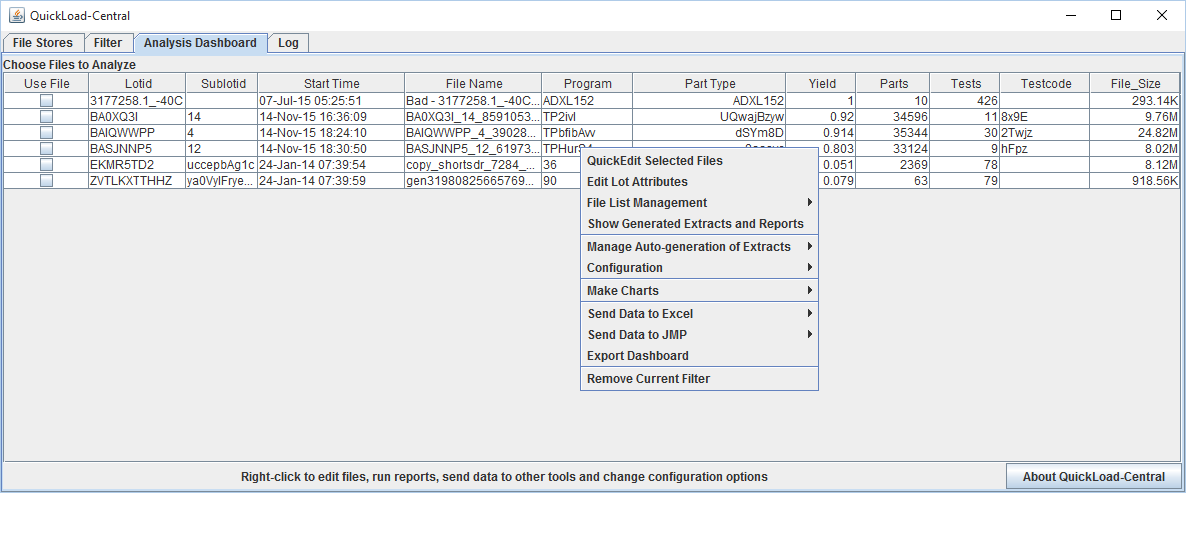 Data Extraction
Once you tell QLC the places your important STDF files are stored, it builds a list of all known STDF files in those locations (including sub-folders and zipped or gzipped files). It can optionally pre-generate data extracts for fast one-click loading into JMP, Excel or any CSV-reading analysis tool.
It also provides ad hoc push to JMP and Excel for all types of data in STDF files. But you don't have to send your data to another tool to visualize it…
Visual Analysis
QLC provides its own powerful set of visualizations, including:
Box plots
Histograms
Normal probability plots
Pareto charts (failing tests, bins, bin percentages)
Scatter plots
Yield and test trend charts
Wafer maps (bin maps, pass-fail maps, stacked bin maps, parametric test result maps)
QLC also provides statistical summaries and convenient lot summary reports. Visualizations include optional outlier filtering and many useful configuration parameters such as multiple levels of grouping variables and five types of line fitting.

Powerful Editing
In addition to its powerful dashboard, extract generation and data visualization capabilities, QLC also integrates for no additional cost our QuickEdit STDF editing tool. Any anomalies QuickLoad-Central helps you find in your STDF files, like mistyped lotids or unexpected die counts, can be quickly understood and corrected with QuickEdit.
Edit header information (lotid, waferid, etc.) in STDF files
Translate STDF to standard formats like TDTF, XLSX and CSV
Visualize parametric data in STDF files
Delete unwanted records from STDF files
View raw data in STDF files
Identify and correct problems that cause files not to load in enterprise yield tools
One page summary of file contents, including bin counts and failing tests.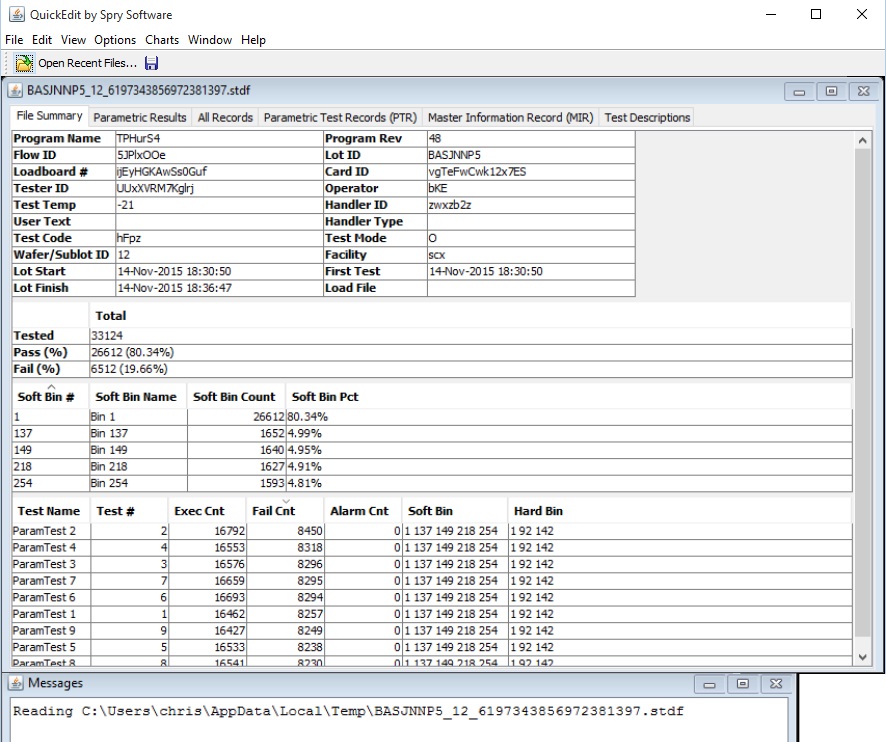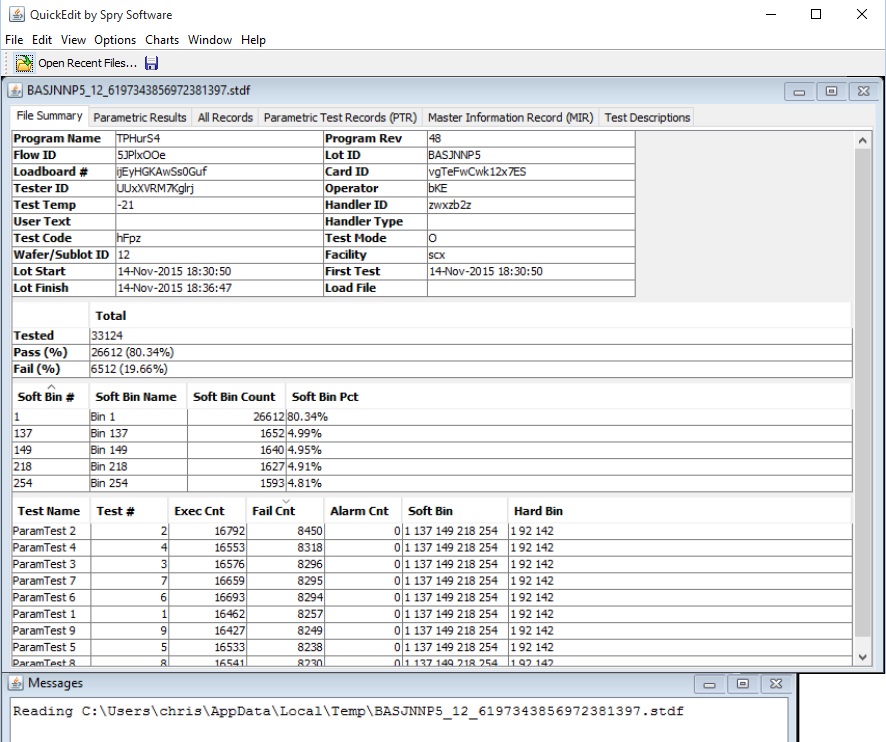 Interested in just the QuickEdit STDF editor by itself? If so, click here to learn more.
Need more information about how to use QuickLoad-Central? See the manual.
Start Your QLC Free Trial

Read to give it a try? Start your free trial today and discover how this powerful software can improve the way you work with STDF data.
Spry Software is small, agile and 100% customer-focused. If you try out QLC and find you need additional capabilities in order to make it an essential piece of your yield management toolkit, simply contact us via the form below. We regularly add new capabilities suggested by our customers to help make QuickLoad-Central even better.
Ready To Purchase?

Selecting Buy Now allows you to purchase one or more licenses via credit card or PayPal. If you are interested in purchasing licenses but prefer to use a credit card without paying online, a purchase order or another payment mechanism, let us know by mailing sales@sprysoftware.net or contacting us via the form below. We are happy to accommodate any of those mechanisms. You can also contact us about volume license discounts.
Ready To Upgrade To QLC?
If you have an existing Spry Software product license, and you'd like to upgrade to QLC at a discounted rate, let us know via the form below.